Ian Phillips – Section Chair & Chair of Offshore Achievement Awards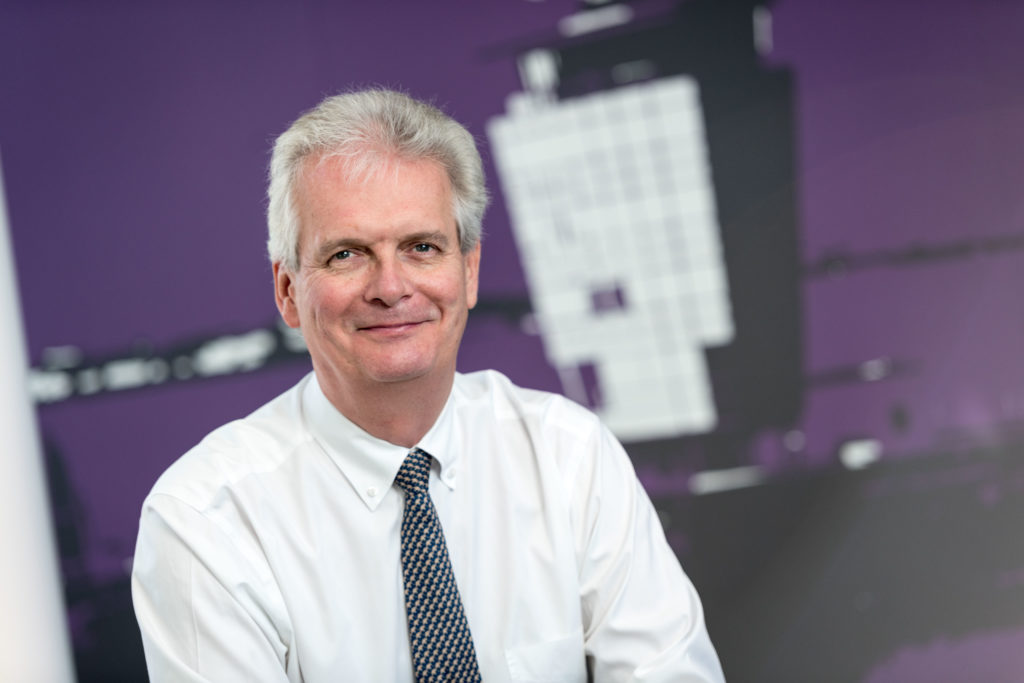 Ian has over 30 years' experience in the upstream oil and gas industry, including 18 years with oil operating companies (Shell, BP, Marathon and Ramco) and 6 years with a major service company (Halliburton). He worked up from being a reservoir engineer involved in exploration and field development projects to being a Project Director responsible for full field development programmes.
In 2007 he became a founding Director of CO2DeepStore Limited, one of the first companies specifically seeking to provide the service of CO2capture, transportation and deep geological storage to alleviate the worst effects of climate change. In September 2014 he became the Chief Executive of OGIC – the Oil and Gas Innovation Centre – a Scottish government backed research funding agency that is entirely demand-led. OGIC provides grants to support company-led research and development in Scottish Universities.
He obtained an MEng in Petroleum Engineering from Heriot Watt University in 1983 and an MBA through the Open University in 1994. He is also a Fellow of the UK Energy Institute and a Chartered Petroleum Engineer.
Ian has been a Director of the Aberdeen Section of SPE since 1986 and has served as Treasurer, Continuing Education Chairman and as Section Chair for 4 years. Since 2012 he has chaired the Offshore Achievement Awards Committee. Ian has also served as North Sea Regional Director on the SPE International Board and as a Director of SPE Europe Limited. Ian was appointed as the current chair of the section in December 2015.
---
Kenny McAllister –  Section Vice-chair
Kenny is the Managing Director of Seal-Tite UK LLC where he leads their well integrity business' interests in Europe, The Middle East and Africa. He holds a Bachelor of Science degree in Applied Physics from the University of Strathclyde and Master of Science degree in Information Technology from the University of York. He began his career as a Research Scientist and Product Development Project Leader with large chemical multinational. Since then he has spent over 20 years involved in the development and commercialisation of new well and near-well technology. He has been involved in new technology developments in electronic downhole gauges, fibre optic downhole measurement, intelligent completion, multi-phase metering, innovations in software based fiscal metering, completions hardware and well integrity solutions. He is passionate about the science and art of new technology adoption.
In the Spotlight – Kenny McAllister
---
Brenda Wyllie – Director of Strategy
Brenda joined OGA (Oil and Gas Authority) from Oil & Gas UK, where she was production manager and was responsible for managing activities associated with PILOT, the government-industry forum, and its board. Brenda focuses on the production efficiency element of the agenda, working within industry to steer monthly and annual production assessments, exploring reasons for losses, and finding solutions to address them, with an aim to increase production efficiency from 60 per cent to 80 per cent by 2016.
Prior to joining Oil & Gas UK, Brenda was UK production manager at CNR International where she was accountable for the Ninian field group. Brenda also has experience with floating, production, storage and offloading vessel operations from her time with BP and has international experience of working for Hess in South East Asia. Her offshore experience was gained with Schlumberger when working as a wireline engineer. Brenda's early experience as an apprentice welder at Halliburton has stood her in good stead working in a predominantly male environment.
Brenda gained a Master of Science in Petroleum Engineering from the University of Stavanger.
---
Diane Wood – Section Manager
Diane is the SPE Aberdeen Section Manager, an SPE member since 2009, previously being the Secretary to the Board of the Aberdeen Section. She sits on the organising committee for the Offshore Achievement Awards and the Schools Career Guidance committee. With a background in science, a STEM ambassador and a published author of 12 scientific papers, Diane is passionate about encouraging the younger generation to study STEM subjects and join the Oil and Gas Industry. Diane previously worked at the Society of the Chemical Industry for 14 years, as Scotland Coordinator, and in the corporate and  membership development team, and as an electron microscopist at the Rowett Research Institute prior to that.
---
Graham Dallas – Chair Continuing Education
Graham is a Business Development Manager with DSL in Aberdeen, focusing on all services associated with offshore and onshore drilling structures including fixed platforms and mobile drilling rigs from new-build to decommissioning. Graham has worked in engineering for over 25 years, with the last 20 in oil and gas.
He started his career as a Mechanical Technician Apprentice in a precision engineering firm but quickly transferred to equipment design and subsequently into oil and gas specialising in subsea and surface completion systems design.  In 2003 Graham made the move from engineering to sales and business development and has worked for a range of service providers from SME and start-ups to multi-nationals in a variety of areas such as drilling, completions, subsea installation and construction, facilities and decommissioning.
Graham is the Chair of the Continuing Education committee which organises the technical conference program throughout the year. In addition to the SPE, Graham is an active participant and volunteer with a number of industry and non-industry bodies such as Step Change in Safety, Decom North Sea, EIC, and AXIS Network. Graham is also a STEM ambassador.
In the Spotlight – Graham Dallas
---
Steve Cromar – Vice-chair Continuing Education
After completing his apprenticeship in the shipyards of the Clyde, Steve studied mechanical engineering whilst working in Edinburgh. In 1981 Steve joined Vetco Offshore and worked on wellheads, production trees and well tieback systems. Steve worked in the engineering office and offshore, installing the equipment in the field.  Steve became supervisor for offshore support and, after a period in the training school as an instructor, he returned to the field to run the first trees West of Shetland on the Foinaven field.
Steve joined Arco British and drilled a series of exploration wells west of Shetland. After moving to Conoco, Steve drilled a number of production wells in the Central North Sea, before moving to production engineering and running completion systems in conventional and HPHT wells. Steve was promoted to Chief Engineer and during this time the Macondo incident occurred. Steve joined the OSPRAG group and was assigned to the Global industry response group (GIRG) and set up the wells expert committee of IOGP. This group made a number of recommendations which have now been accepted and implemented by the industry; OPRAG nationally and IOGP internationally. Steve then moved to a well decommissioning group and initiated the SNS well abandonment project for ConocoPhillips. After taking an early retirement, Steve remains active in the SPE, ISO and IMechE and is working to develop new industry standards and industry collaboration.
In the Spotlight – Steve Cromar
---
Janis Corbett – Vice-chair Programme Committee
Janis is Senior Facilities Engineer at Suncor Energy where she is the Technical Committee partner representative for the Buzzard and Golden Eagle fields and the Development Committee representative for Buzzard Phase II.
She holds a B. Eng degree in Chemical Engineering from Heriot-Watt University, a MBA from Edinburgh Business School and is a Fellow of the Institution of Chemical Engineers. Janis has worked in oil and gas for over 20 years and started her career as a Process Engineer for an international Operator in Aberdeen, after moving from her native Currie, Edinburgh. She held a number of posts including Safety Engineer and Project Engineer prior to moving to Perth, Australia as a consultant Development (Facilities) Engineer.  Since returning to Aberdeen she has continued in Development Engineering as Surface Engineering Lead, specialising in Appraisal and Concept Select with consultancy assignments and long term secondments to Operator clients in UK and Norway.
Janis volunteers for the IChemE as lead interviewer in candidate Corporate (Chartered) Membership interviews and is also a member of AXIS.
In the Spotlight – Janis Corbett
---
Richard Cooper – Chair Schools Career Guidance Committee
Richard is currently a consultant with TauRx Therapeutics, using his skills in process improvement and quality control to support their work to cure Alzheimer's disease. Prior to this he worked offshore for BP in decommissioning, and onshore with Bureau Veritas in their projects team. Richard is passionate about tackling the challenges of the future, and loves working in the Energy Industry.
Richard has been an active member of the SPE since 2011. He also sits on the Offshore Europe Inspire Committee and the NASA in Aberdeen Steering Committee, and is a STEM Ambassador.
Richard holds degrees in Mechanical & Offshore Engineering from Robert Gordon University and History from the University of Aberdeen.
In the Spotlight – Richard Cooper
---
Graham Skinner – Vice-chair Schools Career Guidance Committee
Graham is a Chartered Engineer with a Masters in Drilling and Well Engineering from Robert Gordon University.  He began his career in drilling and currently regulates Major Accident Hazard during the whole well life cycle for the UK Health and Safety Executive.  Graham currently sits on the Energy Institute HPHT steering group and the Oil & Gas UK Well Integrity Working Group.
Graham has supported STEM activities as a STEM ambassador since 2014 joining the SPE Energy4me SCG committee in 2016.  Since joining the committee Graham has promoted the value of volunteering within the wider SPE community and worked to quantify and measure the valuable work done by the committee.  He has also developed a STEM game based on an offshore production platform that has been delivered widely around Aberdeen and will formally be launched in November 2018.
In the Spotlight – Graham Skinner
---
Ritika Pawar – Chair Student Development Committee
Ritika currently works for Intertek as a Technical Support Engineer in the Metering and Calibration department. Her role focuses on the technical aspects of projects which includes researching the requirements for the jobs being carried out all over the world, from Aberdeen to Papua New Guinea. She provides mathematical and statistical analysis of uncertainty budgets for UKAS accreditation and is a UKAS Signatory. She also has experience in undertaking and supervising gas and liquid density transducer calibrations. Ritika also gets involved in the quality, health, safety and environment (QHSE) for her workplace and has completed the UK Accreditation Services (UKAS) 17025 Assessor Training.
As chair of the SPE Student Development Committee she works closely with all the student chapters under the remit of Aberdeen Section. She is also a STEM Ambassador and volunteers for the SPE Schools Career Guidance Committee
In the Spotlight – Ritika Pawar
---
Chris Stewart – Chair Young Professionals
Chris has been working for Expro as a Subsea Engineer for the last 4 years since graduating from University in 2013. Throughout this time he has worked in various departments including hands on support in the Subsea Workshop, Projects, Mechanical Products and Electro-Hydraulic Subsea Controls with the latter being his primary focus. For the past couple of years Chris has been part of the SPE Aberdeen Young Professionals section leading the increasingly popular Simplified Series. He is also an active member with the Technical Programme Committee. Chris is now the Vice Chair of SPE Aberdeen Young Professionals committee. He has a strong passion for developing others and regularly attends schools events offering his own take on engineering and the Oil & Gas industry. Chris is a Chartered Engineer through the Institution of Mechanical Engineers and holds a Master's Degree in Mechanical Engineering from the University of Aberdeen.
In the Spotlight – Chris Stewart
---
Adam Zalewski  – Vice-chair Young Professionals
Adam joined BP in 2016 as a Petroleum Engineer after graduating with MEng in Petroleum Engineering from University of Aberdeen. He gained offshore operations experience working as Production Support Engineer on ETAP platform and Offshore Petroleum Engineer on Foinaven FPSO. He is passionate about combining the petroleum engineering with data science and was selected to be part of the Data Science Bootcamp pilot in his organization.
Adam started his involvement with SPE as a Student Chapter President at the University of Aberdeen. Since his graduation he was involved with SPE YP Committee, first as the Secretary where he has taken a lead to deliver the Emerging Engineers Forum during Offshore Europe 2017 and now as the Vice-Chair.
---
Michael Dursley – Chair Membership, Marketing and Communications
Michael founded Reliance Energy Partners in 2016 where he holds the role of general manager. He is responsible for the company's activities in UK, West Africa and Middle East. The company's specialism is forming integrated groups and joint ventures to deliver technical and commercial solutions for oil and gas field developments.
Prior to Reliance Energy Partners, Michael worked more than 30 years in the drilling and production sectors of the energy industry. With substantial experience in managing drilling and oil and gas field operations both onshore and offshore in the North Sea area and internationally. He has worked in a variety of environments, geographically and politically, where responsibilities included full profit and loss accountability for drilling and field development projects.
He has worked as project operations manager assisting oil companies in field development. Responsible for the drilling and completion of gas field wells, construction of gas gathering station and pipelines. Actively took part in negotiation with government authorities on licensing matters, field development strategies and investment targets. He has negotiated gas sales agreements for local consumers and cross border users.
Michael is well versed in all aspects of oil companies' business and experienced in project execution on both the operator's and contractor's side. He was a founding member of an integrated well construction company created to participate in performance well construction and field developments in the North Sea, and internationally in Latin America, North Africa and Middle East.
More recently Michael was the founder and owner of a drilling company constructing land wells for oil, gas and gas storage projects in UK, France and Netherlands. The company drilled high angle and extended reach wells within budget and with zero lost time incidents during a period of more than 5 years.
Michael is a member of SPE for 25 years, having joined the society in May 1992. He has held a number of volunteer positions throughout this time. He is currently chair of the membership, marketing and communications committee.
---
Tina Hunter – Vice-chair Membership, Marketing and Communications
Professor Tina Hunter is the Director of the Aberdeen University Centre for Energy Law (AUCEL) and the Professor in Energy Law at the University of Aberdeen. She teaches and researches in the area of petroleum law, resources law in the Arctic and shale gas law. She has undertaken teaching, research and consultancies in numerous countries including the UK, Australia, Norway, Canada, Iceland, Greece, Finland, Russia, the USA and the Philippines. She has academic qualifications in marine sediments, geology, political science, and information science. She received her PhD from the University of Bergen, and has been a visiting scholar a number of European, Australian and North American universities.
Her expertise in regulating of petroleum activities has been sought by many governments to undertake such activities as analysing petroleum laws, drafting legislation and advising governments, industry groups and NGO's worldwide. Professor Hunter is a member of the EU's European Science and Technology Network on Hydrocarbon Extraction, an Editor of OGEL, and Advisor to several bodies.