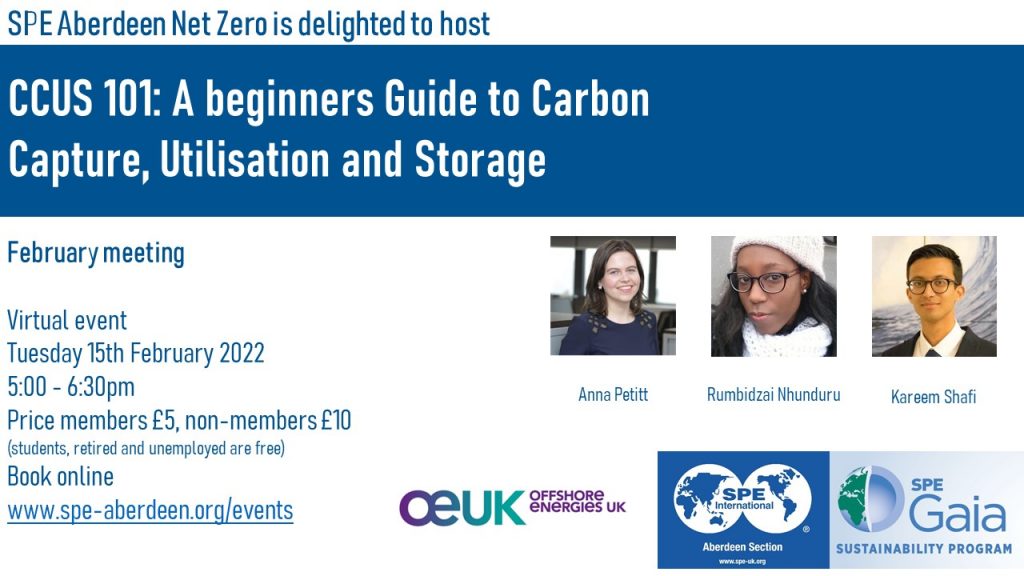 The SPE Aberdeen Net Zero Committee is hosting, on behalf of the CCUS Conference 2022, a beginners guide to Carbon Capture, Utilisation and Storage. It will enable people to learn some more about the basics from why it is needed through to how CO2 can be captured and where it can be stored. Topics to be covered include:
Green House Gases and Climate Change
CCUS in the UK
Global CCUS Projects
CO2 Capture
CO2 Transport
CO2 Storage
 As well as for those who just want to learn some more, it is also intended to provide an introduction for people attending the conference to enable them to gain more from the event. The video of this event will be made available to anyone who signs up to either this event or the full conference.
Presenters: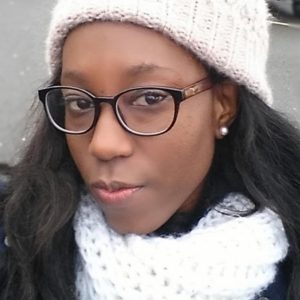 Rumbidzai Nhunduru is a subsurface flow researcher in the Research Centre for Carbon Solutions (RCCS) at Heriot-Watt University. Her research focuses on understanding and upscaling multiphase flow and transport in porous media for CCS and other subsurface engineering applications. Her areas of expertise are microfluidics and direct numerical simulations (pore-scale modelling)"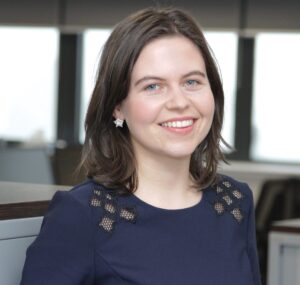 Anna Petitt first graduated with a MA First Class Honours Degree in French-German which included a year abroad, partly spent working for Total in Pau, France. She also holds a MSc in Oil and Gas Engineering (Distinction) at Robert Gordon University where her thesis involved modelling the possibilities of flow control devices to maintain CO₂ in liquid form in the completion during CCS. She won the Energy Institute's Best MSc paper competition for her project. Passionate about Net Zero, especially carbon capture, which is essential to meet the Paris Agreement climate goals, she is the Chair of the SPE Aberdeen Net Zero committee. She currently works for Tendeka as their UK Sales Manager.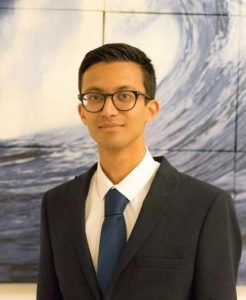 Kareem Shafi is a Business Advisor at OEUK (Offshore Energies UK), where he is responsible for the development of technical guidelines and UKCS initiatives associated with CCUS. His career started off with leading Reserves Progression and Reservoir & Well Optimisation Initiatives, whilst providing insights on key aspects across the oil and gas industry and energy transition. Kareem also holds a BEng in Petroleum Engineering from the University of Portsmouth.
Book your place below:
Once you have booked your ticket you will receive an email with a link to register for the event on Zoom
Member rates apply to members of: SPE, PESGB, EI, AXIS, IMechE, ICoTA, IMC, OEUK
Student rate applies to full time students only
All prices are inclusive of VAT
Any problems booking for this event, please contact Diane Wood aberdeen.manager@spe-uk.org