Scotland's energy policy is changing to reflect the different demands of Maximising Economic Recovery (MER) and the decarbonisation goals presented by the Paris Agreement.
Many exciting initiatives are being implemented at a national and local level, by both the public and private sectors, to deliver these ambitious targets and manage an economically sound transition. These include Vision 2035, the Energy Strategy, the Just Transition and City Region Deals.
Our event brings together some fantastic, high profile speakers to help young professionals working in the industry to understand this changing landscape of laws and regulation, its opportunities and challenges, and what it means for their future careers.
Join us at this free event for great presentations and an opportunity to network with other young professionals. Light refreshments will be provided.
• Paul Wheelhouse MSP, Scottish Government's Minister for Energy, Connectivity and the Islands
• Nina Holm Viste, Commercial Manager UK at Shell
• Ian Phillips, Chief Executive of the Oil and Gas Innovation Centre (OGIC)
• Mai Muhammad, Energy Manager at Aberdeen City Council
• Moderator: Stephen Thompson, Business Development Director (Renewables) at Global Energy Group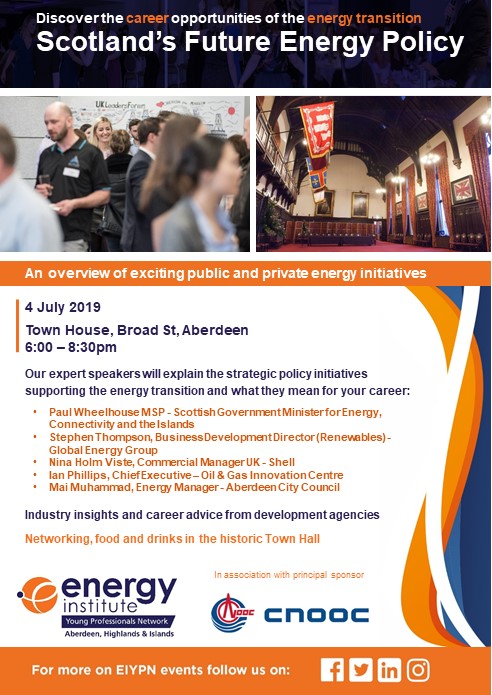 To book to attend this event which is aimed at helping young professionals to understand the public and private sector initiatives for delivering a positive energy transition CLICK HERE