Energy Transition and the Future of the Oil and Gas Industry
Ian Phillips, Oil & Gas Innovation Centre
Abstract:
With world population continuing to rise, and our ability to find and develop hydrocarbon reserves continuing to be strong – this should be the ideal business environment for companies to grow and thrive.
The catch is that burning oil and gas (and coal) emits billions of tonnes of carbon dioxide – which we now know is causing huge changes to the climate, with significant rises in northern hemisphere temperatures (think receding glaciers), and blistering heat in the southern hemisphere (think Australian bush fires).
This has two effects.  Investors are already deserting the sector, with some funds explicitly refusing to invest in oil and gas.  Separately, the global energy supply is evolving rapidly, although there is no "silver bullet" solution.  The presentation will consider renewable energy, various ways of decarbonising oil and gas, and the potential impact on how we live.
We hope for a lively debate!!
Biography: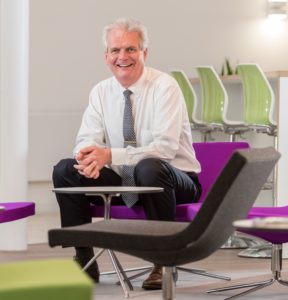 Ian has over 30 years' experience in the upstream oil and gas industry, including 18 years with oil operating companies (Shell, BP, Marathon and Ramco) and 6 years with a major service company (Halliburton). He worked up from being a reservoir engineer involved in exploration and field development projects to being a Project Director responsible for full field development programmes.
In 2007 he became a founding Director of CO2DeepStore Limited, one of the first companies specifically seeking to provide the service of CO2 capture, transportation and deep geological storage to alleviate the worst effects of climate change.
In September 2014 he became the Chief Executive of OGIC – the Oil and Gas Innovation Centre – a Scottish government backed research funding agency that is entirely demand-led. OGIC provides grants to support company-led research and development in Scottish Universities.
He obtained an MEng in Petroleum Engineering from Heriot Watt University in 1983 and an MBA through the Open University in 1994. He is also a Fellow of the UK Energy Institute and a Chartered Petroleum Engineer.
Ian has been a Director of the Aberdeen Section of SPE since 1986 and has served as Treasurer, Continuing Education Chairman and Section Chair, most recently from 2015 until 2019. Since 2012 he has chaired the Offshore Achievement Awards Committee. Ian has also served as North Sea Regional Director on the SPE International Board and as a Director of SPE Europe Limited.