Oil and Gas Expertise for Unconventional Geothermal Opportunities.
Webinar presented by Gioia Falcone, Professor of Energy Engineering, University of Glasgow
Abstract:
Geothermal energy is a constant and independent form of renewable energy and plays a key role towards the decarbonisation of the energy sector. While most of the conventional hydrothermal resources have already been discovered and exploited across continents, the greatest potential for future geothermal energy production and thermal energy storage lies in unconventional settings. The oil and gas sector has developed technologies and expertise for the exploration and production of hydrocarbon systems that are directly complementary to geothermal exploitation. The concept of skills transfer between these energy sectors is not new, but there is scope to facilitate and accelerate the process.
This talk will review the principles and uses of geothermal energy in today's energy mix and discuss unconventional geothermal settings and engineering solutions, highlighting how hydrocarbon expertise can complement geothermal exploitation and identifying areas where future research efforts should be addressed to enhance technology transfer.
Biography: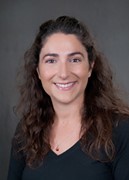 Gioia is Rankine Chair, Professor of Energy Engineering at the University of Glasgow, where she leads the Energy and Sustainability Research Group and is Associate Director of the newly established Centre for Sustainable Solutions. She is Visiting Professor at Department of Earth Science and Engineering at Imperial College London. Until June 2018, she was Professor and Head of the Geo-Energy Engineering Centre at Cranfield University. Between 2011 and early 2016, she held the Endowed Chair and Professorship in Geothermal Energy Systems at Clausthal University of Technology, Germany, where she was also the Director of the Institute of Petroleum Engineering. Gioia was formerly an Assistant and then Associate Professor in Petroleum Engineering at Texas A&M University, Chevron Corporation Faculty Fellow and faculty member of the Ocean Drilling and Sustainable Earth Science partnership. Prior to joining academia, she worked with Eni-Agip, Enterprise Oil UK, Shell E&P UK and Total E&P UK, covering both offshore and onshore assignments.
She holds a Laurea Summa Cum Laude in Environmental-Georesources engineering from Sapienza University of Rome, a M.Sc. degree in Petroleum Engineering from Imperial College London and a Ph.D. in Chemical Engineering from Imperial College London. She is Vice-Chairperson of the Bureau of the Expert Group on Resource Management of the United Nations Commission for Europe (UNECE), Member of its Renewables Sub-Group and its focal point for the UNECE Carbon Neutrality project. She serves on the 2020-2023 Board of Directors of the International Geothermal Association (IGA) and on the Directorate of Scottish Carbon Capture and Sequestration (SCCS). She is Chair of the Academic Panel of OGCT, Member of the European Geothermal Energy Council (EGEC) and the UK Carbon Capture and Storage Research Centre (UKCCSRC).
Book your place below:
The link to join this event (on Zoom) will be sent out in advance of the event
Member rates apply to members of: SPE, EI, AXIS, IMechE, ICoTA, IMC, OGUK
Student rate applies to full time students only
All prices are inclusive of VAT
Any problems booking for this event, please contact Diane Wood aberdeen.manager@spe-uk.org