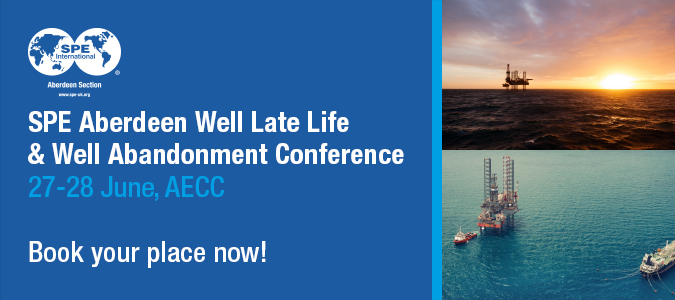 "Managing Late Life Wells to Maximise Value & Optimise Abandonment"
Download programme here.
The SPE Aberdeen Late Life and Abandonment Conference, sponsored by Well-Safe Solutions, is focused on maximising recovery from late-life wells, planning for abandonment, optimising abandonment operations and formulating what is required for post-abandonment monitoring. The conference, which is in its 8th year, will benefit from bringing together those specialising in the areas of production optimisation, well integrity and those focused on abandonment operations from major operators, service companies and regulators.
The workshop will promote the sharing of innovative practices in these areas and promote collaboration across the spectrum of late-life production and well abandonment.  Emphasis will be placed on best practice for maximising recovery, planning for abandonment and innovative abandonment solutions.
Attendees will hear about the latest updates to the OGUK Well Integrity and Well Abandonment Guidelines and ongoing work in production stewardship.  Representatives of regulators and operator practitioners will provide clarification of guidelines, with discussion sessions to address issues and concerns.  Active participation is expected. The conference programme will be released here soon.
Sponsorship and exhibition space is available.  Download the opportunities here or contact aberdeen.events@spe-uk.org
Presentations Available to Download:
Day One
Well Late Life and Abandonment – Opening Address. Glenn Brown, OGA. View here.
Process Safety for Wells. Graham Skinner, HSE. View here.
Guidelines: Offshore Decommissioning Waste Management. Martin Bjerregaard, D3 Consulting. View here.
Alternative Permanent Abandonment Barrier Verification using CaTS™ Wireless Technology. James Yard. Expro. View here.
Efficient P&A Execution & Cost Reduction Through Optimisation & Continual Development of a Swarf Handling System. Craig Martin, ROMAR International. View here.
Delivering High Performance in a Major North Sea Brownfield Project: The Tyra Future Project, Denmark. Nick Jensen-Visser & Alex Lucas, Total E&P Danmark A/S. View here.
Improving Late Life Well Integrity through Sustained Casing Pressure Remediation. Thore Andre Stokkeland, Archer, Alex Lucas & Michael Cowling Total E&P Danmark. View here.
Managing Well Integrity on Erskine Normally Unattended Installation The First HPHT development in the UKCS. Iain Robertson Chevron North Sea Limited. View here.
Sealing Solutions. Jeff Fulks, BiSN. View here.
Retrofit Intelligent Well Technology. Paul Lynch, Tendeka. View here.
Well Verification Frequency – Justification for Change. Richard Conway. Repsol Sinopec Resources Ltd. View here.
Classifying Salt as a Barrier for Well Abandonment – A Case Study from the Southern North Sea. David Dangfa, Spirit Energy. View here.
Getting Old But Still Acting Young – Are Your Wells As Old As They Look? Oyin Adeniji, Spirit Energy. View here.
Don't Abandon Geophysics. The Value of Seismic Data for Decommissioning & Restoration. Ryan Singlehurst-Ward, Shell. View here. 
Day Two
UKCS Decommissioning Market. Fiona Legate, Wood Mackenzie. View here.
KnowledgeDevelopment Within Industry P&A Practises. Ben Forman, Well-Safe Solutions. View here.
Optimus Modular Solution. Charlie Fraser, Petro Well Services. View here.
Control Your Risk Without Risking Your Control. Andrew Livingstone & Pete Thomson, Baker Hughes, a GE Company. View here.
Case Study: Shell UK Subsea Wellhead Recovery Campaign 2017. Rafaella Madella, Shell. View here.
Wells Abandonment Accelerated. Development of A Single-Trip, Casing On Deck System. James Linklater, Ardyne. View here.
Sonar Technology Aids Production. Brownfield Surveillance for Late Life Production. Alex Tree, Expro. View here.
Long Term Well Plug Integrity Assurance. A Probabilistic Modelling Approach. Brian Willis. Astrimar. View here.
Step Change Improvements to PWC Perf-Wash-Cement®. Arne G. Larsen, HydraWell Intevention. View here.
Revolutionising the Down Hole Safety Valve. Restoring Shut-in Wells. Sarah De Boer. OGTC. View here.

Helix Decommissioning Support. New Approach to P&A. Ekene Ogbechie, Helix WellOps. View here.
Providing Effective Isolation for Abandonments Utilizing Inflatable Bridge Plugs, Following Section Milling Operations. Ian Bayfield, TAM International. View here.
Brent Abandonment Monitoring: The Importance of Annulus Characterisation for Safe and Efficient Decommissioning. Ian Jackson, Shell. View here.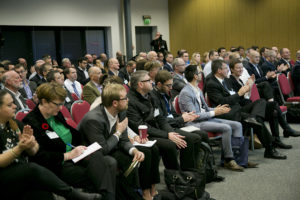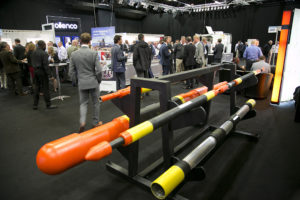 Download the conference flier here
Platinum Sponsor:

Event Sponsors: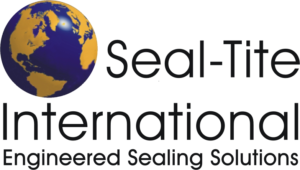 Stationery Sponsor: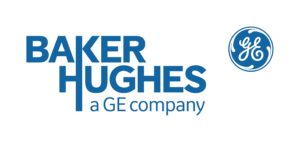 Networking Reception Sponsor: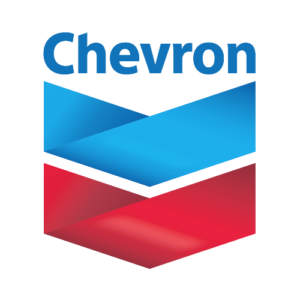 Lanyard Reception Sponsor