A New Well Monitoring Method – Managing Well Integrity in a Cost-driven Net Zero Emissions Energy Industry
Neil Gordon, CEO, Sentinel Subsea
Abstract:
Cost-efficient environmental stewardship is the foundation of a thriving 21st century energy industry, not least as we all rise to the current global challenges. At the centre of this is the integrity of thousands of subsea wells across the globe. Current practices for monitoring these assets ensure optimum environmental safety, from exploration to final abandonment. Recognising the challenges faced by the industry in cost-driven and net zero emissions energy future, Sentinel Subsea has developed a range of in-situ well monitoring technologies which adopt a unique method for achieving these vital well integrity management activities.
Sentinel Subsea was founded in 2018 with the goal of developing a continuous well monitoring approach which do not rely on repeated ROV flyovers and associated vessel-time. The Sentinel method focuses on capturing material from a well should there be an unwanted loss of containment. The small detection device requires no active power source and is simply installed onto/or near key subsea infrastructure. The system is configured to react with either well hydrocarbons (C1 –C5 gas and/or well fluid) or our tracer fluid SWIFT which has previously been sealed in the well. Once sufficient material has been gathered our proprietary locking mechanism degrades, releasing a coded beacon which on reaching the surface sends an alert to Sentinel Subsea.
Our Hydrocarbon Detection System and Tracer Detection System provide the industry's only passive well monitoring technology. With backing from the OGTC and a North Sea operator our equipment has been tested in both the onshore and offshore environment. Following system trials in Buckie Harbour our system was shipped offshore and deployed off a platform for a 2-week period in August 2019.
Biography: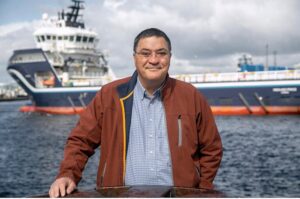 As Chief Executive Officer at Sentinel Subsea, Neil demonstrates an impressive track record within the oil and energy sector.  Nearly 40 years in well construction have seen Neil play an integral role within a number of global companies, including Weatherford, BJ Services and Frank's International.  His expertise has been gained via a broad range of operations, sales, senior management and board level activity. During this period Neil, managed global product line portfolios with combined annual revenues of over $3bn, while also successfully championing and launching a number of new and innovative well construction technologies.