Introduction to Project Management
Rob Rothwell
Project Manager, PMI UK Aberdeen Branch Chair
Registration and networking from 5.45 pm, with the event starting at 6.45 pm
Outline:
Projects are everywhere. At work and at home. They can deliver great benefits to organisations, communities, and society.
This presentation will introduce projects and project management. It will define what a project is, then take you through the five key questions you need to ask about any project. It will then introduce the PMI process groups and knowledge areas.
This will provide a framework for how to understand and successfully manage projects. As a result, you will have more chance of bringing in projects on time, in full, and under budget.
Biography:
Rob Rothwell is a PMP-certified project manager with over 15 years of experience.
He delivers IT projects and programmes in the oil and gas industry. He has worked in many parts of the upstream oil & gas industry for operators and service providers. He also has experience in public sector, space and defence organisations.
Rob is the Chair of the Aberdeen Branch of the Project Management Institute's UK Chapter.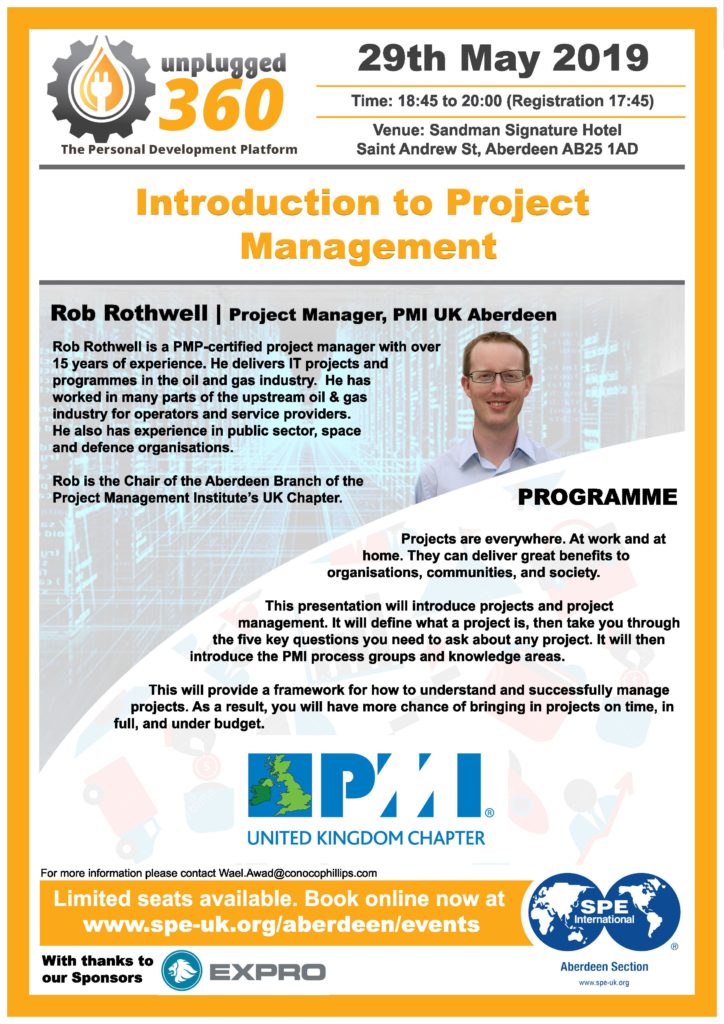 Free to attend but booking is essential.
Any problems with booking please get in touch with Diane Wood aberdeen.manager@spe-uk.org