YP Unplugged 360 Series Webinar:
Leading in a Virtual Environment
Rahul Dogra, International Management & Leadership Instructor
Outline:
Whether working with a colleague in the next office or across the world, virtual working is becoming the norm. A proactive approach that focuses on taking actions that increases the benefits of virtual working whilst addressing and minimising the obstacles, allows team members to be effective at operating and supporting their colleagues. Leaders have a clear understanding on the challenges their teams face on a day to day basis in a virtual environment and this course will enable them to proactively lead teams separated by distance, time zones and culture. We will talk about how to effectively lead a virtual team to create success in the global workplace by fostering key relationships that reinforce collaboration and team identity. We will investigate how to facilitate effective and productive teamwork by utilizing appropriate communication technologies.
Biography: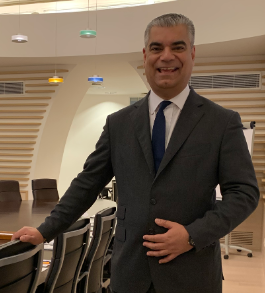 Rahul Dogra has over twenty years of senior management and leadership experience running an international math software company and consulting for organizations in the for profit and not for profit sectors.
Rahul currently works as an international management and leadership instructor and as a curricula instructional designer, working with clients across Europe, Africa, Middle East, India, North and South America. He has developed and delivered programs on a wide array of management topics by working with customers to design and tailor solutions that enable attendees to access practical tools and approaches to common issues and problems faced. He has delivered programs to clients in five continents to date. In addition, he has coached individuals in delivering strategy, transitioning to management, leadership and customer service courses.