SPE Aberdeen Awards £12,000 in Student Bursaries
SPE Aberdeen Section were delighted to award the 2021 Student Bursary Awards last month. This scholarship programme has been an integral part of SPE Aberdeen for over 40 years and the section was delighted to be in a position to continue making these awards this year. Individual bursaries ranging from £500 to £1,500 were awarded to students from undergraduate to PhD level from Heriot-Watt University, Robert Gordon University, University of Aberdeen, University of Dundee and University of Strathclyde; a total of £12,000 was awarded.
The section received over 50 applications and each applicant was judged on the quality of their academic work, their intent to embark upon a career in the energy industry and their active involvement with SPE. The applications also covered topics which included Diversity, Carbon Net-Zero, COVID-19 – challenges & opportunities, and Connectivity & Sustainability.
Out of 18 finalists, 5 were invited to present, virtually, to a judging panel of industry professionals after which the outstanding bursary, £1,500, was awarded to Georgy Borisochev. Georgy is a Petroleum Engineering PhD student at Heriot-Watt University.
A further 4 finalists were awarded £1,000:
Aaron Tung                 University of Aberdeen
Emmanuel Eke            Robert Gordon University
Yevgeniya Morrice      Heriot-Watt University
Milena Zagulak           University of Aberdeen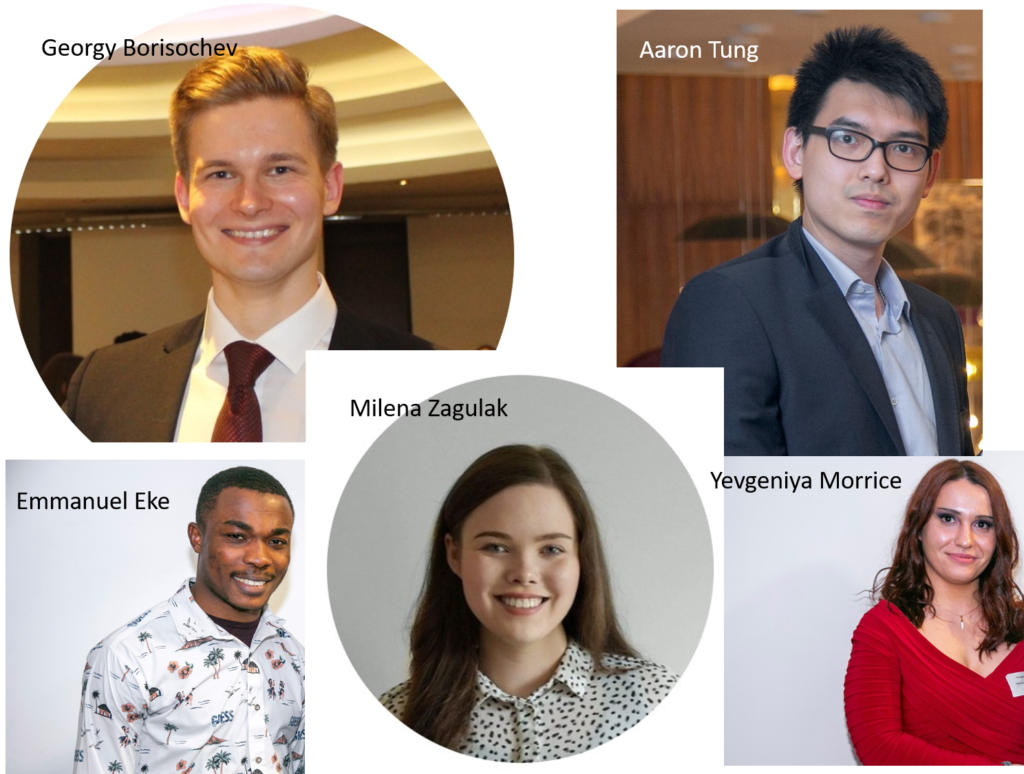 A final 13 were awarded £500:
Hani Ahmed                University of Aberdeen
Christine Tambe         University of Strathclyde
Rim Henri                    Heriot-Watt University
Scott Dearie                University of Strathclyde
Rumbidzai Nhunduru Heriot-Watt University
Marai Gatiesh             University of Aberdeen
Serveh Naderi             Heriot-Watt University
Shima Ghanaatian      Heriot-Watt University
Sam Head                   Heriot-Watt University
Kurt James Smith        University of Dundee
Priscilla Ogunlude       Robert Gordon University
Obinna Okolie             Robert Gordon University
Olawale Oyenubi        Robert Gordon University
Elliot Kinch, Chair of the Student Development Committee said: "Once again we were blown away by the calibre of the submissions. Notwithstanding the challenges presented by the current restrictions, we have been extremely encouraged by the quality of the students and their potential is clear. The presentation stage of the judging process provided us with the opportunity to meet, albeit virtually, these promising individuals and as in previous years we were extremely impressed; this made the judging processes all the more tough but above all inspiring."
Sharing technical knowledge is at the core of SPE and as much as this applies on a peer-to-peer basis, it is even more important that we share this knowledge and support our industry's future generation. The ongoing support of our members and the wider energy industry in Aberdeen and further afield, attending our events and remaining involved in our initiatives, makes it possible for us fund support for students and school pupils, encouraging our industry's next generation and future leaders. We wish all the award recipients all the best in their future studies and careers."
On receipt of his award, Emmanuel Eke, PhD student at Robert Gordon University commented: "The bursary awards scheme provided a great opportunity for me to interphase with current issues in the oil and gas industry. My capacity to critically research problems and propose innovative solutions was sharpened by the entire application process as I shared my responses to a judging panel comprising of elite industry personnel."
The bursary award winners were presented virtually with their awards and certificates by Elliot Kinch and Section Chair, Kenny McAllister. The top bursary award recipients will also have the opportunity to present at upcoming SPE Aberdeen events and events organised with the section's industry partners.