This year, for the first time, the SPE Heriot-Watt University team successfully went through from the regional qualifying competition for Europe at the SPE East Meets West Student Congress in Krakow Poland to participate in the PetroBowl International Final. The Heriot-Watt University team of Mark Lakos, Wong Ming Yi, Hydra Rodrigues, Muzammil Rammay and Zharas Shorabek from the Institute of Petroleum Engineering in the School of Energy, Geoscience, Infrastructure and Society finished 3rd (out of 28 universities represented) in the European qualifying round. They will be competing against other student chapter teams from Africa, Asia Pacific, Europe, South America and Caribbean, Middle East, and North America regions who have also made it to the last 32.
The HWU team is the only team from the UK to have qualified for finals which will be held later this year at the SPE Annual Technical Conference and Exhibition (ATCE) in San Antonio, Texas from the 9th to the 11th of October. The team wish to showcase the high technical and academic training that has been promoted not just in Heriot-Watt University, but in the whole of the UK.
The Society of Petroleum Engineers (SPE) holds the annual PetroBowl Quiz competition where university teams from around the world are challenged to answer both technical and non-technical questions associated with the oil and gas industry. The event was first held in 2002 and has since grown in size and popularity.
This competition is a combination of challenge and fun with the opportunity to win a competitive prize. The SPE ATCE in San Antonio will be a great opportunity for the team to attend the conference and exhibition, to meet with students from other universities, and to build networking with other academia and industry professionals.
The team is extremely grateful to the SPE Aberdeen Section for their generous donation of £2,500 to help fund the team to compete in the finals. The team is also indebted to the Heriot-Watt University Annual fund support, the CMG Foundation Chair, the Adrian Todd Golden Key Student Fund Award and the and logistic arrangement from Geo2Flow founders Daniel and Vicki O'Meare. In addition, the team would also like to thank Professor Patrick Corbett, Professor Sebastian Geiger and Dr Alex Graham for their encouragement and support during the fund-raising period.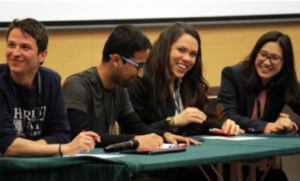 Sponsors: