Chair's Address - August 2019
August 2019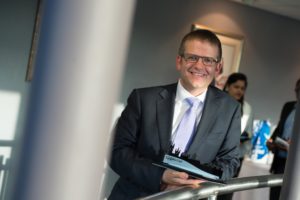 Dear SPE Aberdeen members, colleagues and friends,
As the new session of SPE activities gets underway it is a time of reflection, renewal and anticipation and with this in mind I am delighted to take on the position of Aberdeen Section Chair.
The industry has been through some difficult years and Ian Phillips performed the unenviable task of sailing the SPE Aberdeen ship through the choppy waters of the last four years when the industry's ability to support education not-for-profits such as the SPE have been severely tested.
Like the other survivors in the industry SPE Aberdeen has looked more intensely at our core purpose and the costs to deliver our programmes. We are emerging from the downturn fitter and better serving our audience. SPE Aberdeen has assembled a record number of technical conferences responding to the local industry's desire to continue learning and sharing without the cost of international travel. Fittingly our last conference at the AECC focussed on decommissioning – wells in our case but the AECC had their own decommissioning project shortly thereafter. The first conference of the new session will concentrate on the new. SPE Aberdeen Inwell Monitoring & Surveillance Seminar 2019 will focus on applying the gifts of the data age to the search and recovery of prehistoric resources.
Looking forward, the energy market is changing and so is the public view of the oil & gas industry. It is not the role of the SPE to engage or comment on the government policy. That said, our members will be sharing technical information around some of the key areas of fracturing, emissions targets, North Sea gas as a feed stock for hydrogen as a fuel, maximising economic recovery from the North Sea and how we safely decommission our infrastructure and wells at conferences.
The SPE is a meritocracy with the best papers with the freshest ideas aired at conference and technical meetings. Our board and volunteers demonstrate diversity in gender and ethnic identity. There is no room for complacency, and we will be searching for an appropriate independent third party to guide and inform our policies to ensure that there are no unwitting perceived barriers to inclusion and participation.
If you would like to volunteer in SPE Aberdeen and get involved in our conferences, evening technical meetings, student chapters, schools careers guidance team or any aspect, we are holding a launch event on August 28th - see details below. I look forward to seeing you there.
Interested in finding out more about the Aberdeen section, or would you like to get involved, then don't hesitate to get in touch.