NASA Team Return to Aberdeen to Inspire the Next Generation
January 2018
Following the huge success of 'NASA in Aberdeen' in early 2017 a week-long series of events will return to Aberdeen City & Shire in March 2018. Jointly organised by the Society of Petroleum Engineers (SPE), Energy Institute (EI), the Society of Underwater Technology (SUT), TechFest and Aberdeen Science Centre, the project was first launched in March 2017. The objective was to "inspire the next generation" to consider a career in science, technology, engineering and maths based roles, particularly within the energy industry. Given the similarities between various processes and technologies used both in the energy sector and in space, the events offered participants valuable insight into the close links between the two industries. The project attracted an audience of over 3,000 participants over a unique week of events. Many of the attendees at the events were school pupils from rural areas who have limited access to STEM related activities. Subsequent teachers continued professional development programmes have been rolled out in schools along with numerous career related activities. 2018 events will focus in on a specific link between the two industries - the increased use of robotics. Discussing this topic will be former Robotics Engineer for NASA, Mason Markee, as well as astronaut, Bob Cenker who will talk about his NASA career.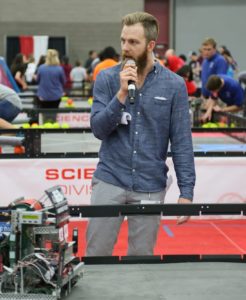 Beginning his career at NASA, Mason contributed to designing and building prototype lunar rovers, electric cars, and humanoid robots. An active supporter of robotics education, Mason continually volunteers with the FIRST and VEX Robotics Competitions.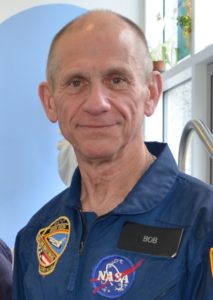 Former astronaut Robert J (Bob) Cenker flew on the space shuttle Columbia on a six day mission in 1986 as a payload specialist. He performed a variety of physiological tests, observed the deployment of the RCA Satcom Ku-1 satellite, and operated primary experiment, an infrared imaging camera. Bob has extensive experience in telecommunications and satellite industries.         NASA in Aberdeen Chairman, Colin Black acknowledged the generous support that the project has received from the Oil & Gas industry, with new sponsors Apollo, BP, Nexen, Oceaneering and TAQA joining the original sponsor Statoil to support and promote NASA in Aberdeen to an even wider audience. Hedda Felin, Managing Director of Statoil Production UK said: "Statoil seeks to inspire young people's interest in Science, Technology, Engineering and Maths competence which is critical to solving many of the dilemmas we face in the energy industry and wider society. We are proud to once again support NASA in Aberdeen, which this year links the energy and space industries through the theme of robotics," The NASA in Aberdeen week of events will begin on Monday 19 March with talks to primary school children, and will end on Saturday 24 March with a family day at Aberdeen Science Centre. The week will also include talks to secondary school children and a public lecture titled "To Mars and Beyond". The public lecture will be held on Friday 23 March at Robert Gordon's College. You can buy your tickets by phone or through Aberdeen Box Office on 01224 641122 (Mon – Sat, 9.30am – 6pm), online
here
at aberdeenperformingarts.com or in person at Aberdeen Box Office. Places are first come, first served and must be booked in advance. Those who attend on the day without a booking cannot be guaranteed entry to the lecture. Only blue badge holder parking is available at the venue. Parking is available nearby at Harriet Street and Denburn public car parks. Please car share or use public transport where possible. For more information on this event, or the NASA in Aberdeen project, contact Stuart Farmer, Head of Physics, Robert Gordon's College on s.farmer@rgc.aberdeen.sch.uk. .      
Interested in finding out more about the Aberdeen section, or would you like to get involved, then don't hesitate to get in touch.