SPE Aberdeen Needs You!
April 2021
SPE Aberdeen Needs You!
People like you! That's what the volunteers at SPE Aberdeen are.
As we see the light at the end of the COVID-19 tunnel we have a wealth of volunteering opportunities.
The summer months see the changing of guard with several officers' 2-year tenures coming to an end and this creates an opportunity for you to bring your ideas to Chair and Vice Chair roles too. We are keen to bring new people and new ideas into the volunteering team and into leadership roles. 
My tenure as Chair of the Section comes to an end this summer. We expect Graham Dallas to step up from Vice Chair and this will lead to vacancies for section Vice Chair and also chair of the Membership, Marketing and Communications committee. The vice chair position in the Programme Committee is also currently vacant. 
In addition to these positions, our committees always welcome new ideas and new volunteers. We have a couple of new committees, Net Zero and Diversity & Inclusion, for you to get involved in. These committees will help SPE Aberdeen continue to grow and meet the needs of the energy industry.
Within our committees there will be a role for you which fits with your interests and time commitments.
It is easy to get in touch and get involved. Contact myself (aberdeen.chair@spe-uk.org) or Section Manager Diane Wood (aberdeen.manager@spe-uk.org) and we can tell you more about these opportunities and discuss what might suit you best. We look forward to hearing from you. 
Get involved, you will find a friendly, smart, positive bunch. People like you! 
Meet the team here.
Kind regards,
Kenny
Kenny McAllister
Chair SPE Aberdeen Section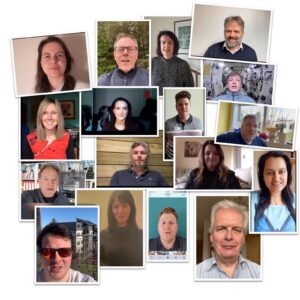 Interested in finding out more about the Aberdeen section, or would you like to get involved, then don't hesitate to get in touch.