SPE Aberdeen Section Director is recognised on the global stage.
December 2017
SPEI 2017 Distinguished Service Award - Colin Black
SPE Aberdeens Colin Black recognised on the global stage
Volunteering for an organisation brings a multitude of benefits, and for the Society of Petroleum Engineers (SPE) Aberdeen Section, one individual's tireless efforts have transformed the way energy topics are taught in schools. Colin Black has been involved with the organisation for 25 years and was honoured for his dedication earlier this year, receiving an SPE International Distinguished Service Award at their annual technical conference in San Antonio, Texas. SPE have over 164,000 members in 143 countries. Colin, managing director of Carjon-NRG Ltd, who deploy innovative "patented" energy technologies globally with investments in Gas Exploration, was recognised for the instrumental role he has played in organising technical events and encouraging school pupils to take an interest in STEM subjects and careers in the oil and gas sector globally. Part of this has seen him help drive forward the adoption of Energy4Me (SPE's global STEM programme) lesson plans in the Scottish Schools Curriculum. Starting his Oil career in 1982, Colin spent several years offshore before becoming Operations Manager at Petroleum Engineering Services, graduating with an MSc in Management at RGU & developing numerous innovative technology companies globally. Latterly he was Vice President OPTIMA, A TETRA Company which at the time was a @$1Bn organisation with over 3,000 employees. This breadth of industry experience has been invaluable in his efforts to lead SPE Aberdeens engagement with youngsters, teachers and career advisers through the organisation's Schools Career Guidance (SCG) committee which he founded. Together with Energy4Me, which provides factual energy resources for students, teachers and the public to access, this has played a critical part over the years in sparking an interest in STEM subjects. Colin received the prestigious award not only for his efforts in Aberdeen, but also on a global basis. He has helped organise technical programs, school career guidance initiatives and Energy4Me events in locations such as USA, Mexico, Brazil, Italy, Ghana, Angola, Nigeria, Norway, the Caspian and Australia. One of the major milestones in Aberdeen, however, has been bringing NASA to region. As a programme which Colin championed & now chairs, NASA in Aberdeen resulted in more than 3000 children in the City and Shire learning about Outer space & being inspired about STEM careers last year, by astronaut Rick Heib and space scientist Dr Sue Lederer. Through this work, Colin has created a name for himself around the world, promoted SPE Aberdeen and been valued by other sections globally, who have looked to him for best practice advice. As well as being a member of the SPE Global Energy Information and Energy4Me Committee, he has also served on the board of SPE Europe from 2011 to 2017. Speaking about his SPE experience and award win, Colin said: I am just a volunteer surrounded by a great team who make a real difference Inspiring the Next Generation around the world. It is a huge honour to receive this recognition from my peers. Ian Phillips, chairman of SPE Aberdeen, said: "From the moment he first joined SPE Aberdeen, Colin has worked with passion and dedication to share and promote the many opportunities within the oil and gas sector to members & young people. In particular, Energy4Me becoming part of the school curriculum in Scotland is testament to his hard work. This, and his many other efforts behind the scenes, make him an invaluable member of SPE Aberdeen and it was a great moment for us all when his commitment was recognised with the Distinguished Service Award.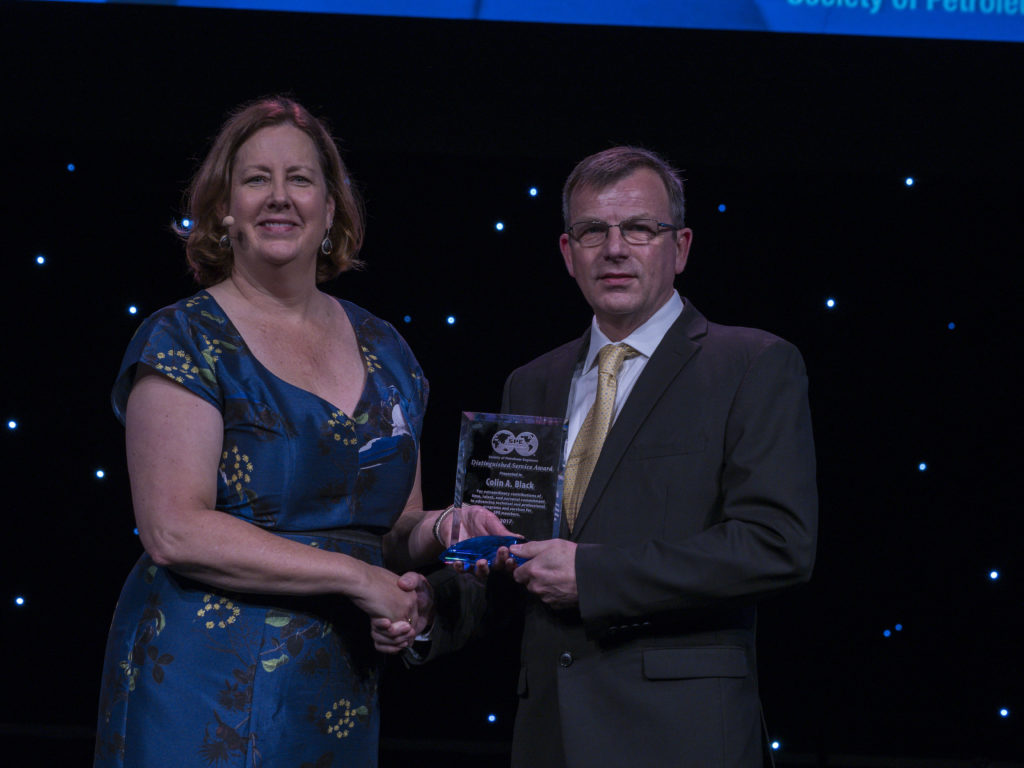 Interested in finding out more about the Aberdeen section, or would you like to get involved, then don't hesitate to get in touch.