SPE Aberdeen Section Young Professionals Committee - 2017 So Far
August 2017
SPE Aberdeen Section Young Professionals (YP) have had a very busy and eventful 2017 so far. They hosted events for professionals on gaining awareness of industry trends, developing technical skills, soft skills for personal development, and also had time to enjoy a social too! Becoming a well-rounded professional requires the right balance of these elements of learning and that's the motivation behind the programme of events organised by the YP committee. Plans for the rest of the year…. The Simplified Series team is delighted to announce that the CEO of ITF,
Dr Patrick O'Brien
will be presenting at their monthly event in September. This event will take place on the 13
th
September due to Offshore Europe occurring the week before; Simplified Series is usually held on the first Wednesday of the month. Paddy has been attending Offshore Europe since the 1990s, and no doubt he will be in high demand! If you don't get a chance to hear him speak, please come along to our free event on the 13th and listen to him discuss
Technology Innovation in Upstream Oil and Gas.
Other interesting talks lined up from the Simplified Series include: 4
th
October:
Rigless - a Misnomer? Applications to Late Well Lifecycles
by Steven Canny, Engineering Lead at Weatherford
1
st
November:
Culture Transformation & Marginal Gains - A Nexen Culture & Efficiency Case Study
by Mike Backus, VP Operations at Nexen UK
Visit the
events page
for more details and booking links. The Emerging Engineers Forum (EEF) will host their next event at Offshore Europe on
Wednesday, 6th of September
. Plans are shaping up nicely with all hands on deck to deliver an exciting event for young engineers during the conference. They recognise the potential that technology has within the industry, therefore this will be the key theme for this year's event. The forum will be held as part of the Inspire Programme dedicated to YP and the next generation of the industry; more details
here
. The purpose of the EEF is to provide young engineers a platform to engage with senior members of the oil and gas industry who are behind emerging technologies, and discuss the integral role of the young engineers. Several companies will have the opportunity to show their commitment to the development of future talent in the oil and gas industry, and showcase their innovation and cutting-edge technologies. These events are organised by a team of dedicated YPs and students who volunteer their time, advancing the mission of the SPE in Aberdeen. If you would like to get involved, please contact 
yp.chair@spe-uk.org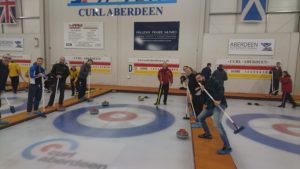 Interested in finding out more about the Aberdeen section, or would you like to get involved, then don't hesitate to get in touch.