SPE International Oilfield Scale Conference and Exhibition Goes Virtual!
May 2020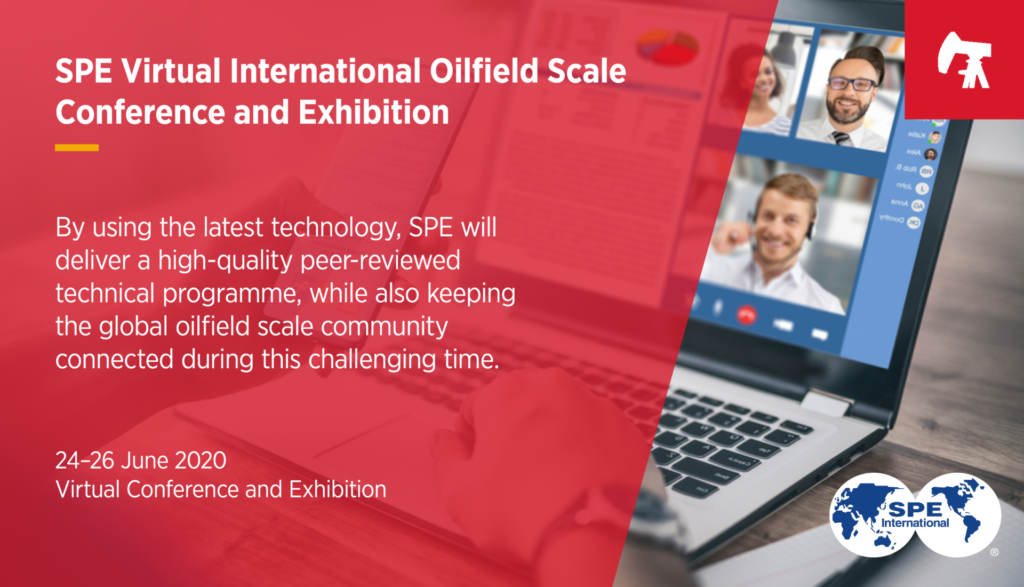 SPE International Oilfield Scale Conference and Exhibition, scheduled to be held in Aberdeen from 24–25 June, is to move from a face-to-face event to a 3-day virtual conference and exhibition. Due to the ongoing global public health concerns related to COVID-19, the rapidly changing environment - and following extensive consultation with key partners and stakeholders - SPE is delighted to announce it has taken the decision to transform the conference into a virtual event to ensure the safety and health of attendees, speakers and sponsors, while still delivering a high quality virtual conference and exhibition.
Myles Jordan, Director Marketing, ChampionX and Conference Chair said,
"The events over the past few months have taught us a couple of things: how quickly our everyday norm can change and how fast we need to adapt. We recognise the need for information, expert opinion and to connect with your peers and customers is vital during these challenging times. The vast potential and reach of a virtual conference means this event is a key opportunity to bring together our community in a new way and allows us to continue to advance our technical insight on the latest challenges and cost effective solutions to inorganic scale control management."
Phil Chandler, Event Director, Society of Petroleum Engineers
said, "We have created a virtual environment that offers a truly inclusive and engaging learning experience. By using the latest technology, it allows us to deliver a high-quality peer-reviewed technical programme, while also keeping our community connected during this challenging time. "With innovation in mind, the new format will provide a series of interactive technical content, collaboration experiences including live speaker Q&A, 1:1 chats and group networking lounges, along with an exhibition and demonstration showcase." The conference and exhibition, now held across three-days, includes two keynote presentations. Each day attendees will gain expert knowledge though a cutting-edge technical programme of 20+ technical papers, 30 poster sharing presentations and an interactive exhibition. The keynote programme will include experts from Equinor and Impac Exploration Services exploring the correlating calcium carbonate scale risk, as well as debating whether barite scale deposits at a kinetic stable supersaturation flow. SPE have significantly reduced the cost of attending this event by almost 70% for SPE members and non-members during this unprecedented time. To register or to find out more information about the
SPE International Oilfield Scale Conference and Exhibition
, please click
here
.
Interested in finding out more about the Aberdeen section, or would you like to get involved, then don't hesitate to get in touch.