SPE Aberdeen raises over £2000 for the RNLI
April 2017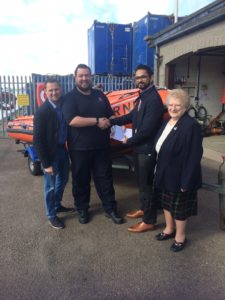 SPE Aberdeen was delighted to support the RNLI at last month's Offshore Achievement Awards, where our guests raised the fantastic total of £2065!
These funds have contributed to the fundraising target of £52,000, which is the cost of replacing Aberdeen's Inshore Lifeboat.
The campaign efforts are being led by Ian Garden of RigDeluge and William Bird of Fennel Media, who have already launched on online raffle appeal to win a spin in the RigDeluge sponsored rally car with local rally ace Quintin Milne, on the VIP Test Day at the Speyside Rally on 21 April.
Dr Margaret Farquhar CBE, Aberdeen Lifeboat Management Group Chairman, commented: "RNLI Aberdeen was hugely grateful to the Society of Petroleum Engineers Aberdeen Section for promotion our appeal with RigDeluge at the Offshore Achievement Awards. To raise £2065 on the night is a brilliant boost to fundraising for our new inshore lifeboat."
Sabeil Ahmed, Treasurer at SPE Aberdeen added: "We were delighted to select the RNLI as our charity partner for this year's awards. As the charity that saves lives at sea, we felt that this was a very worthwhile, relevant cause which many of our members and friends would strongly support.
"We are hugely grateful to the RNLI crews for volunteering their time and helping to keep us safe every day, and to RigDeluge and Fennel Media for the work they're doing in raising awareness of this appeal."
To find out more about the charity raffle, please visit
https://vimeo.com/fennelmedia/rnli
The link to support the campaign and enter the raffle, where tickets can be purchased for £5 each, is
https://www.justgiving.com/fundraising/Aberdeen-ILB
Interested in finding out more about the Aberdeen section, or would you like to get involved, then don't hesitate to get in touch.